Monday, October 31, 2005
My little buddy
Brandon, at the young and tender age of seven is a bold, courageous Christian.
A few weeks ago our favorite son blessed Memaw with a newer car. She blessed Kathleen and the boys with her magnicifent Maxima.
Yesterday, while at dinner Kathleen called. Her car wouldn't start!
I drove to the store parking lot with some tools and met her there, a short distance from where they live.
As she approached she was talking on her mobile phone. Brandon was relating the circumstance of an encounter he had with a little neighbor boy. It went like this.
"Are you a christian?"
"Yes, Jesus died on the cross for me."
"Mom, can I play with him? He's just like us."

Ain't God good?
PLease pray for Kathleen, Dyllon and Brandon.
They may need to go into hiding.
They have "escaped" from Argentina and an abusive husband/father.
The rules of the Hague convention, which has been adopted by the United States, were written to help children like these are working counter to the benefit for these boys and judges are more interested in the letter of the law than it's intent.

Shalom Y'all
Charlie

Wednesday, October 26, 2005
A LITTLE HUMOR

When I was crossing the border into Canada, they asked if I had any firearms with me.
I answered; "What do you need?"

Only in America do we shop at places with limited parking, overpriced items, long lines, and call them convenience stores.

Odd that when a house burns down, the only things left standing are the chimney and the fireplace.

Shalom Y'all
Charlie

WILMA UPDATE

She attacked with fury.
Removed the soffit from the front of our house, destroyed the carrotwood tree, removed an awning, stripped the royal palm trees and the tomato plants, "messed up" the sugar apple tree and banana plants, blew water into the house around the edges of the front door, and left.

Neighbors came out and helped each other.....Again

Electric power was out three days. Water and sewer continued to function......Seems the City rented a generator to power the lift station down the street!
Pretty, (the Dalmation who allows us to live with her,) birds and I survived well. Memaw returned to a lot of the mess cleaned up.

Ain't God good?
He is a great God!
Shalom Y'all
Charlie

Monday, October 24, 2005
Hurricane Wilma
has came and went

She left some trees broken,
Others bent.

We have no electric power
At least not at this hour

We cook on the gas grill
Saves on the electric bill

The generator is loud,
but to have it we are proud.

Maybe I'll write more later
I've gotta plug something else in to the generator.

Ain't God good?
Shalom
Charlie

Sunday, October 23, 2005
Wilma
She has completed her destructive pass through the Yucatan and now is aimed at us!
Most of the preparations I can accomplish are complete. When they are, the rest is in the hands of God.
He is in control.
He is a great God.

Shalom

Wilma

There is a slight breeze.
Scudding clouds overhead, floating past.
The "stuff" from the yard is moved to the garage.
Most of the windows are covered with plywood.
Memaw is 200+ miles north attending to three of our favorites while thier Mom and Dad ride thier bikes in Texas.
Photos have been made of the exterior and most of the interior.
I'll do the other photos soon.
I even checked on the fish in the water garden. Something ate them!
My big, beautiful koie are gone. Only some scales, flies, and a terrible odor remain.
There is a generator on the back porch where the parrots usually reside.(They are in the house.)
Two fuel cans are full.
The folks from the Weather Channel are on the local beaches chattering incessantly and saying............Nothing. They do a lot of that.
Wilma is on track to visit us tomorrow.
I'm going shopping.
I need a small battery powered radio with remote so memaw won't be tempted remove it from the floor near my desk, where I am able to manipulate the dials and not get up.
Also, a few groceries.
I may just bake some bread while I wait for Wilma.
I hope she will be merciful and not do the devastation she did in Mexico.
God is in control.
He is a great God.
Shalom

Thursday, October 20, 2005
Proverbs 22:15
"Folly is bound up in the heart of a child, but the rod of discipline will drive it far from him."

Never forget the story about Eli and his "spoiled" sons.

Shalom

BECCA
Earlier today I received a forwarded message from favorite youngest daughter.
It was from the Executive Director of Missouri Commission for the Deaf and Hard of Hearing.
She is to receive an award for being good at what she does.
Ain't that sumthin?

When she first arrived on the scene she was not well received by the locals.
Nothing new to her.
That has happened a couple'a times before.
Now, five years later she is being recognized for the professional she proved herself to be, and, of course, if you ask ol' Dad, the fine young woman she is.

The award is for evaluating sign language interpreters in Missouri.
I didn't even know she was involved in that.

Ain't God Good?
Shalom Y'all
Charlie

There was more rain than usual for about three weeks and the Wood Storks vanished.
Soon the rains stopped, the water in the ditches, ponds and fields began to recede and there they were again.
Where do they go?
How do they know?
Now some of the shore birds are exploiting the resource and one can see white ibis, brown ibis, egrets, cranes, roseate spoonbills and yes, the Wood Stork, sometimes all in the same shallow, engaging a sort of feeding frenzy, gobbling what they can while the water and food remains.
It is beautiful, fascinating!
BUT Wilma is comeing!
What will happen to the birds, the animals, and to us?
She is wandering about in the Carribean, growing stronger, weaker, threatening!
God is in control.
He is a great God.

Shalom Y'all
Poppy

Tuesday, October 18, 2005
"Humility and fear of the Lord bring wealth and honor and life. In the paths of the wicked lie thorns and snares, but he who guards his soul stays far from them. Train a child in the way he should go, and when he is old he will not turn from it."
Proverbs 22:4-6

Ain't God good?

Friday, October 07, 2005
Rennie

Before she was born I chose a name for her, a name her Mom didn't like. You see, rain falls, makes everything grow and leaves a fresh clean aroma in the air.
That is how I "see" rain and wanted to name the little girl Rain Marie.
We needed a compromise. The name then was changed to Rennie.
Today she left her children and husband behind and drove four hours to visit with and comfort her Mom, help Mom move past the tears, and enjoy "girl" time together. Like a fresh spring rain, push back the "stuff" and make everything fresh.
Although she is in her forties now..........Thank God for little girls.

Ain't God good?
Shalom Y'all
Charlie

Thursday, October 06, 2005
MELODY
Today was her grandson's nineteenth birthday. Last month she celebrated her fifty ninth.
This morning the hospice nurse came to visit and no one answered.
The nurse called the son, who entered and found his mother sitting in her favorite chair in a pool of blood where she had apparently been for about a day and a half. The ravages of her cancer had dealt it's final blow.
Will we ever know exactly what happened? Probably not. We only know the cause of her demise was not self-inflicted.

It is raining now, like a scene from a sad movie.

She leaves behind a grown daughter and son, two grandsons and little else.
The dreaded disease, the result of nearly fifty years of smoking cigarettes and self-indulgent behavior had invaded her lungs and throat.

When Memaw, her only sibling, tried to talk to her about eternity, she half-heartedly recited some of the "stuff." She knew who Jesus is. Did she know Him? Only He and she can answer that for sure.

Goodbye sister in law.

Learn from this gentle reader.

Jesus loves you but the choices are yours to make.

Shalom Y'all
Charlie

Tuesday, October 04, 2005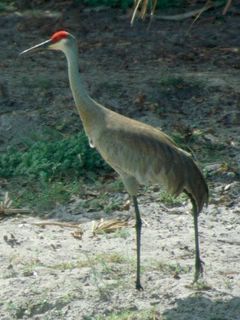 Beautiful Sandhill Crane

Another sign of the seasons changing from summer to fall is the return of the Sandhill Cranes.
What adjective best describes a bonded pair as they stand on their spindly legs, dip their heads to the ground and forage?.......... Stately? Majestic?..........
You decide, I can't.
There is some indication that a few of them have decided to stay all year in the area surrounding RSW Airport. People a mile away complain about the noise of the huge jet airplanes. The birds forage in the marshes at the perimeter of the runway completely unconcerned.
Go figure.
Ain't God good?
Shalom Y'all, Charlie